Why can't I get a prescription for an over-the-counter medicine?
Polio Booster
"At this time we are not yet able to offer the Polio Booster. We will invite children to have a booster as soon as we are in a position to do so. However, we are still offering appointments to any child or adult that is not up to date with all their polio or other age appropriate vaccines. Please check your red book to see what vaccines your child has and hasn't had. If they are missing any vaccines please call us back to book an appointment."
For more information on the vaccine please see our new webpage for patients about Baby & Childhood Vaccinations which has a dedicated page about Polio: https://nclhealthandcare.org.uk/keeping-well/baby-and-childhood-vaccinations/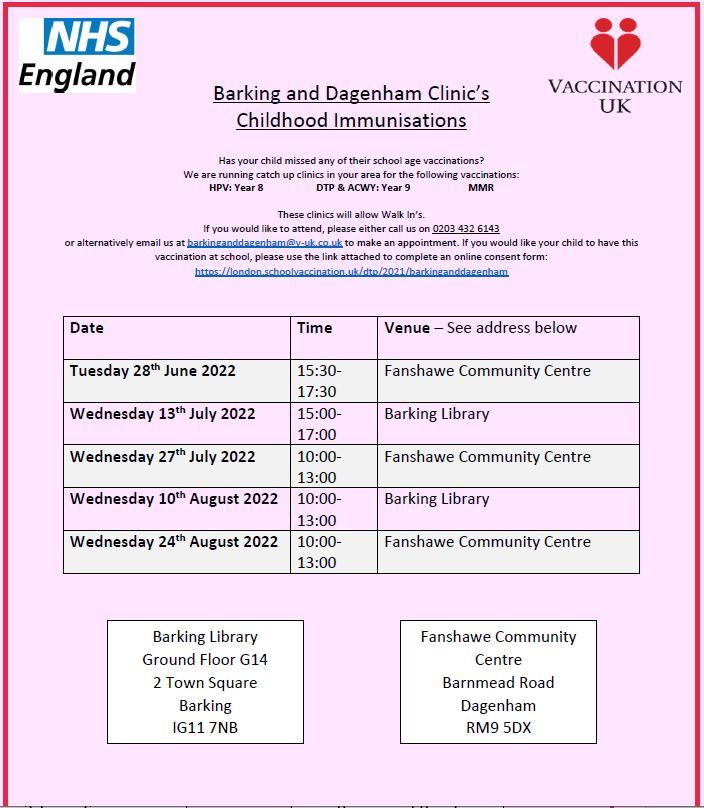 London Pharmacy opening hours for August Bank Holiday 2022
Information to the Carers
Open Clinic - DTP & Meningitis ACWY Vaccine
Complaints
If you feel the need to complain, please email us at: nelondonicb.bmgpcomplaints@nhs.net We will respond to your feedback with a unique reference number to be used on future correspondence relating to the matter. A case handler will be assigned to your complaint to update you on progress and contact you if we need any further information. According to the Surgery complaints policy, we aim to resolve all complaints within 40 working days.
Flu vaccinations
All patients over the age of 65 and those in the 'at risk' categories are offered Flu vaccinations annually between September to end of January and also Pneumonia vaccinations as per current recommendations.We offer these vaccination on a 'walk-in basis'
Children aged 2 & 3 years old (in addition to children under 18 in an at risk group) are now also offered the Flu vaccine in the form of a nasal spray. Childrens vaccinations are given by our practice nurses and require a pre-booked appointment.
The appointment dates will be confirmed after 06 Sept 2021.
NHS Digital's daily collection of GP data will support vital health and care planning and research.
The deadline has been extended from 23 June 2021 to 23 August 2021
The data held in the GP medical records of patients is used every day to support health and care planning and research in England, helping to find better treatments and improve patient outcomes for everyone. NHS Digital has developed a new way to collect this data, called the General Practice Data for Planning and Research data collection.
The new data collection reduces burden on GP practices, allowing doctors and other staff to focus on patient care.
Video Link: https://www.youtube.com/watch?v=YLi9gh7RyLA
What the Patient data will be used for
Patient data collected from general practice is needed to support a wide variety of research and analysis to help run and improve health and care services. Whilst the data collected in other care settings such as hospitals is valuable in understanding and improving specific services, it is the patient data in general practice that helps NHS to understand whether the health and care system as a whole is working for patients.
Research the long-term impact of coronavirus on the population
Analyse healthcare inequalities
Research and develop cures for serious illnesses
Opting out
If you don't want your identifiable patient data to be shared for purposes except for your own care, you can opt-out by registering a Type 1 Opt-out or a National Data Opt-out, or both. These opt-outs are different and they are explained in more detail below. Your individual care will not be affected if you opt-out using either option.
Type 1 Opt-out (opting out of NHS Digital collecting your data)
NHS digital will not collect data from GP practices about patients who have registered a Type 1 Opt-out with their practice.
If you wish to register a Type 1 Opt-out with your GP practice before data sharing starts with NHS Digital, this should be done by returning this form to your GP practice (in Person through the letter box) by 23 June 2021 to allow time for processing it. If you have previously registered a Type 1 Opt-out and you would like to withdraw this, you can also use the form to do this. You can enquire at reception or call 0300 3035678 for a form to be sent out to you.
This collection will start on 1 July 2021 so if you do not want your data to be shared with NHS Digital please register your Type 1 Opt-out with your GP Practice by 23 June 2021.
National Data Opt-out (opting out of NHS Digital sharing your data)
NHS Digital won't share any confidential patient information about you - this includes GP data, or other data they hold, such as hospital data - with other organisations, unless there is an exemption to this.
If you do not want NHS Digital to share your identifiable patient data with anyone else for purposes beyond your own care, then you can also register a National Data Opt-out.
To opt out from the national data extraction by the NHS Digital, Please follow https://www.nhs.uk/your-nhs-data-matters/manage-your-choice/ or use the NHS app.
Feedback on Care Provided
Please click on the link below to tell us about your experience of care. This can be both positive or negative
BMGP Complaints Procedure
If you would like to make a formal complaint please email to: barkdagccg.bmgpcomplaints@nhs.net
NHS England Complaint Authority: 0300 311 22 33
To complain about a UK government organization or the NHS in England you can contact the Health Ombudsman in the following manner:
Visit their 'Making a complaint page' to complain online or download a paper form
Call their Customer Helpline on 0345 015 4033 from 8:30am to 5:30pm, Monday to Friday
Send a text to their 'call back' service: 07624 813 005